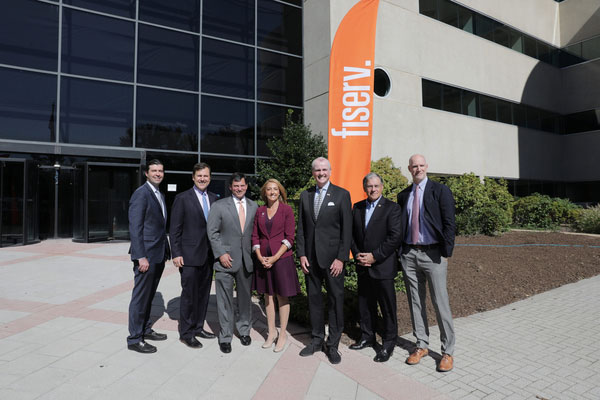 Governor's Office | Governor Murphy celebrates Fiserv's new hub in Berkeley Heights
The new location will accommodate 3,000 jobs
BERKELEY HEIGHTS – Governor Phil Murphy, along with company representatives and state and local officials, today celebrated the grand opening of a new Fiserv office in Berkeley Heights
Fiserv, a global leader in the FinTech industry, will expand its presence in New Jersey, bringing together 3,000 jobs in one location, including 1,927 new jobs and 1,063 existing positions.
"I am delighted that Fiserv has not only chosen to stay in New Jersey, but that this global company is tripling its workforce in our state," Governor Murphy said. "This announcement represents what we have been working on for over three years as we strive to reclaim our position as a global leader in technology and innovation.
"As a fintech leader and talent destination, Fiserv is proud to expand our presence in New Jersey, extending our decades-long commitment to the state." said Frank Bisignano, President and CEO of Fiserv. "Our new location will be a dynamic hub for associates, enabling us to bring our people together to inspire innovation and collaboration as we create digital-first banking and payment capabilities and business solutions that empower our customers to serve their customers in a rapidly changing world. "
Fiserv currently provides payment technology and financial services to 125,000 commercial sites and 150 New Jersey-based financial institutions.
The majority of jobs at the new Fiserv hub will be in technology-related roles, and the new campus will serve as a strategic center of excellence for technological innovation.
The company will partner with local universities, including Rutgers University – Newark, to create programs and opportunities for their students and graduates.
The new campus at 100 Connell Drive includes 428,000 square feet of space in a single four-story building. Fiserv will invest in improvements and pursue LEED (Leadership in Energy and Environmental Design) certification for the building.
"New jobs are the key to our success as a state. The Connell Center in Berkeley Heights is a great place. The Connell family have always been leaders in our state. Welcome to New Jersey ", said Republican Assembly Leader Jon Bramnick.
"By creating new employment opportunities in a growing industry, we are giving New Jersey the tools to succeed, which is especially important for a post-pandemic economic recovery. Fiserv recognizes the best talent they can attract by building in Berkeley Heights and we know this will create high paying jobs in the area and keep jobs in New Jersey. It's a win-win ", said MP Nancy Munoz.
"Today, Berkeley Heights wins another strong partner. I look forward to Fiserv becoming a centerpiece of the fabric of our community ", said Berkeley Heights Mayor Angie Devanney.